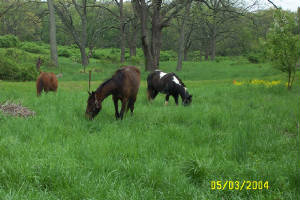 OUR CARE:
At Jack Straw Farm we offer full care stall and full care field board, both are offered with AM and PM feedings. Our pastures are well maintained, fertilized and seeded on a yearly basis to ensrue the best quality pastures. Stalls will be completed this winter; all horses will have an available stall.
Field care boarders will have optional use of stalls; so, if you choose, you may stall your horse during the winter months, those exceptionally hot summer days, or the night before a show without the monthly cost of full care board costs (daily stall rates apply). We also offer full care stall board, this will include 2 feedings per day with stall use anytime. We supplement the pastures in the summer with hay as needed, and in the winter months hay is available 24/7. Our hay is a field grass mix. Your horse will always have something to nibble on to stay fit, keep busy, and stay happy. Discounts for RETIRED horses (those no longer being ridden). Email or call for pricing information.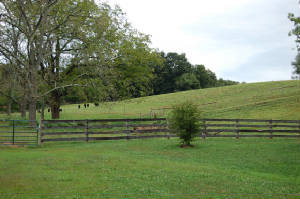 Just completed construction of two new stalls.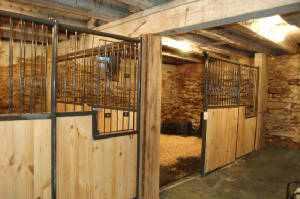 More to come this spring! We will have openings in the spring for full board.
OUR PASTURES AND FENCING:
We have a rotational grazing plan which rotates the horses through our fields to insure good quality grass regrowth. Pastures are rotated from our sacrifice feild through two other paddocks. On very bad weather days they are kept in the sacrifice field to insure the pasture quality is preserved. The will be rotated on 12 hr schedule from pasture to sacrifice area with hay availalbe in the sacrifice field. This also helps keep those FAT grass bellies to a mimimum.
We have 4-board oak along all roadways, the interal fencing is equi-coat and 12-gage electric wire. All pastrues have spacious fields with shade trees, and our winter pasture has a 30x20 run in. Lots of hill for excersize and keeping those muscles working. There is also a smaller paddock available for those who can't be on lush grass with access to free choice hay.
Our small paddock has access to a spring fed stream and natural watering system. This water is always running and is cool and refreshing in the summer. So there are no worries of your horse standing next to an empty water bucket!
Julie & Debra at Lochmoy Event Clinic 2012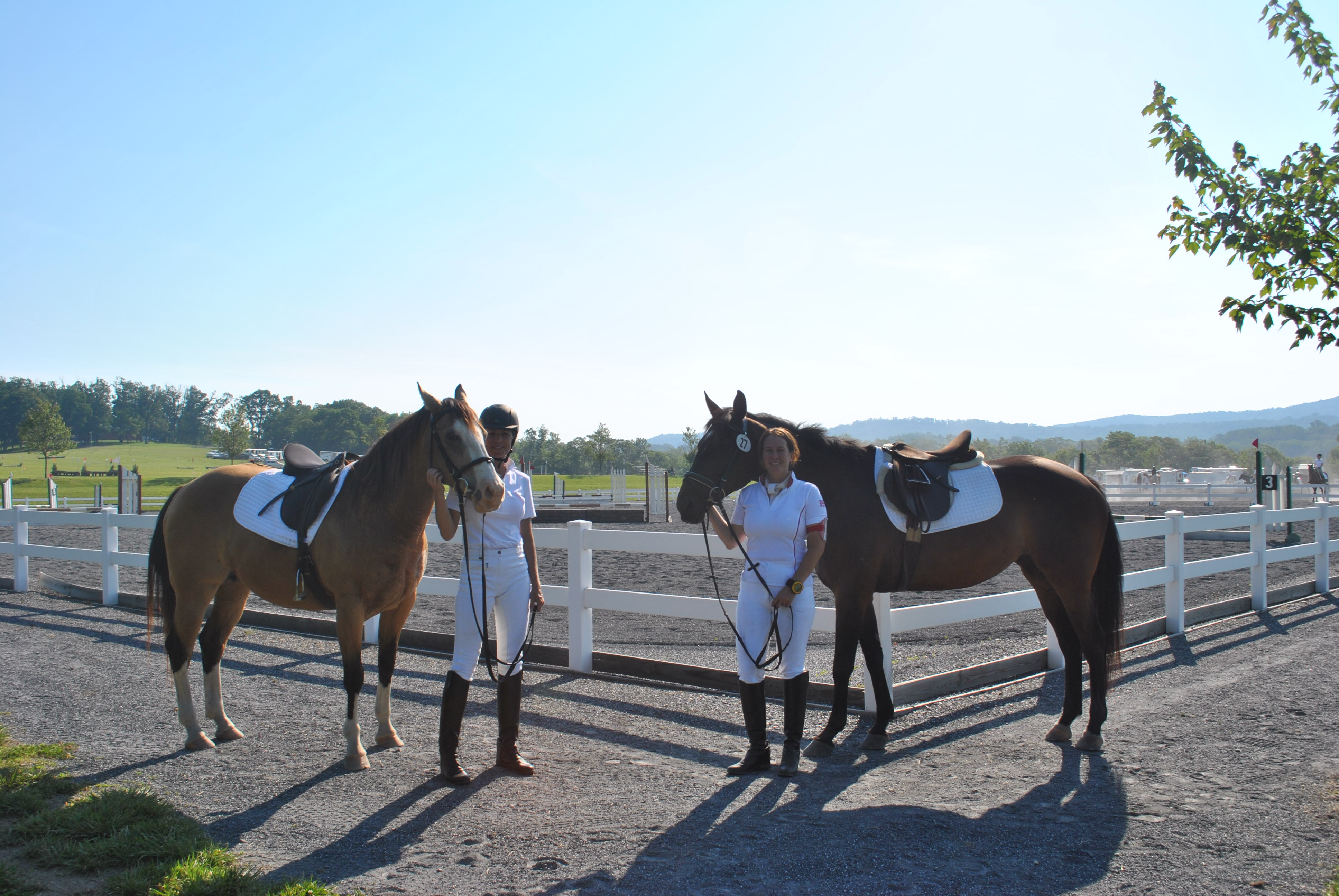 Jack Straw Farm is a quiet place to enjoy time with your equine friend, without the hussle and bussle of a big show barn! We have a certified trainer that comes to the farm once a week for lessons for hunter and dressage. If you are intrested in showing we do travel to a few shows a year, trailering is available at a cost per horse/pr mile.
Debra riding Amber at MDA show 2009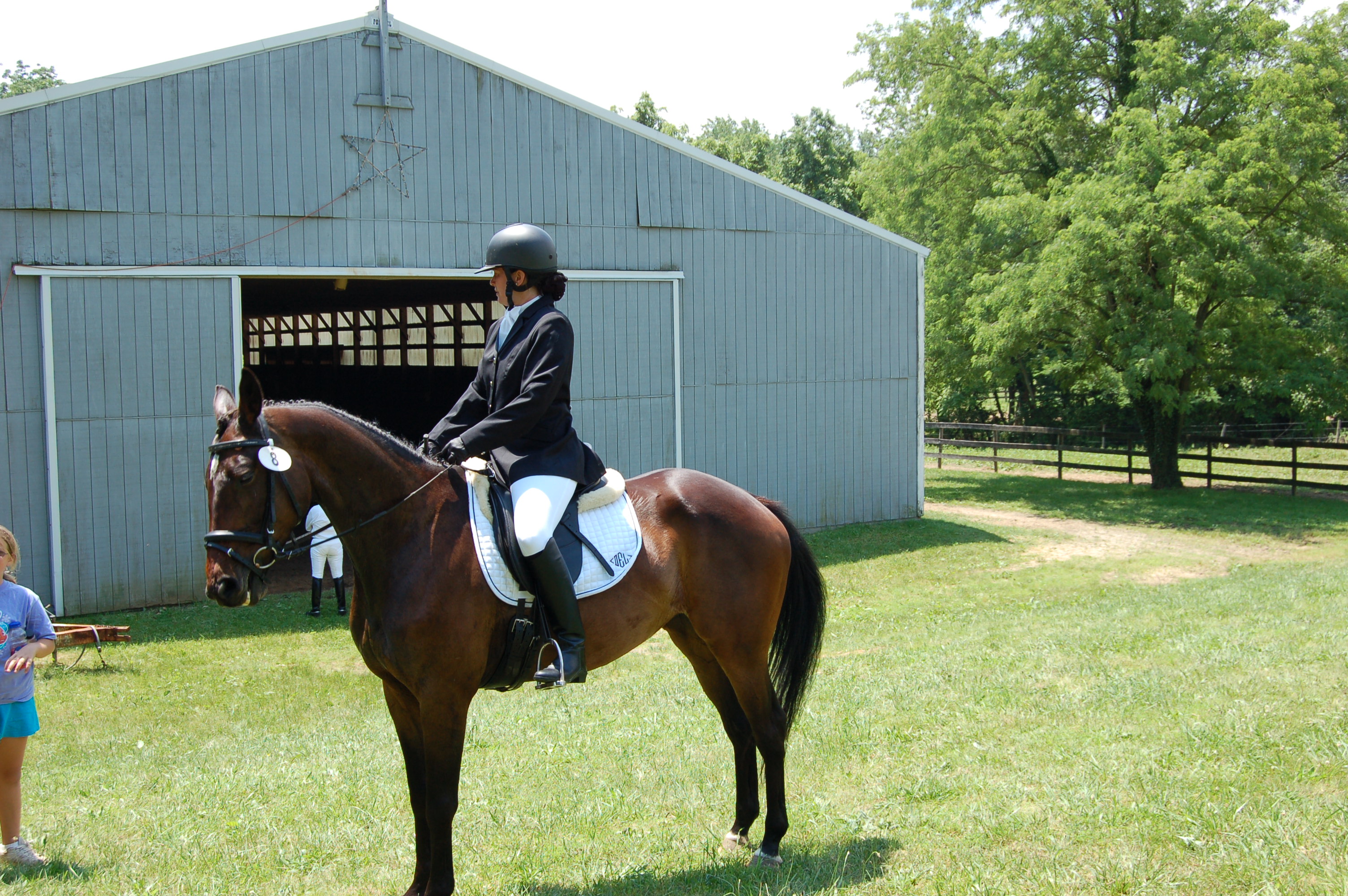 Big White enjoying a dip after a long trail ride.
VET AND FARRIER:
Both our Vet and Farrier are excellent in the care and service they provide. However, you may use your current vet and/or farrier. We dont feel we should dictate to you who should care for your horse. We do offer scheduling and will handle the vet and farrier services for a nominal fee. Yearly vaccines are required. Worming will be done by Jack Straw Farm and billed to you.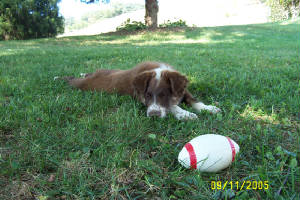 Jumping Jack Flash aka 'Flash'


Debra riding Rich Amber in a cinic with Yvonn Coleman Larson
CONGRATULATIONS to Debra and Rich Amber for their first year showing (2009)with MDA. They received a Silver Medal for Intro to A & B and 4th place high score for 2008 show season for Intro Adult.
We provide Legends Performance Pelleted and Triple Crown Senior feeds. Hay is provided to your equine 24/7 which is most important during the winter months to keep warm. Our horses generally don't need to be blanketed because of the free choice hay that is available 24/7, quality grains and great field shelters. The horses are fed 1-2x a day. We will feed any special supplements or speciality feeds that you wish, that you provide. All horses will be required to be up to date on all shots and will need to provide a negative coggins. Horses are wormed on a 6 week cycle through the summer and 8 week cycle throug the winter, and billed to your board.
Each stall will have a window or dutch door for you horse to have fresh air with a view!



PRIVATE PASTURE FOR LAYUPS:
We have one 2 acre paddock available for private turn out. The paddock has several shade trees and fencing is oak board and equi-coat/wire. No stallions please. This would be available for one horse, on a short or long term basis. Please inquire for rates and requirements.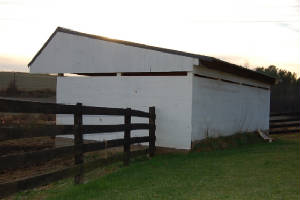 20X30 Run In Shed